Roll laminators are laminating machines that use two rolls to bring documents through the machine. They can often work with pouches of different sizes and can use several temperatures. How flexible a particular machine depends on the features of a specific model.
Almost all laminators should be able to handle 8.5 x 11" sheets of paper with ease. Two rollers are used in the process. You can also look for the best and high quality laminating mechanism that adds value to your business.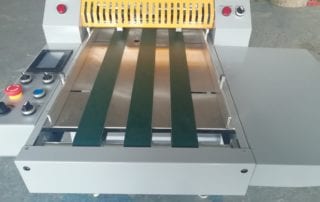 The first set takes in the sheets and places them over the paper. The heating elements between each set of rollers will heat the document to the correct temperature. The heating elements melt the adhesive that seals the documents together. The temperature needed to melt the adhesive depends on the type of glue used and the thickness of the pouches.
The second set of rollers pulls the finished project back out of the roll laminator. The user should wait for the finished project to cool before handling it. A user must consider the width of a project before making the decision to protect a project. The original document should not take up the entire space in the film.
If the project paper does take up the entire width of a pouch, the edges of the document could be damaged. A business owner looking to purchase this type of laminator need not worry about spending a great deal of money on it. It is the most common type, which makes it readily available.